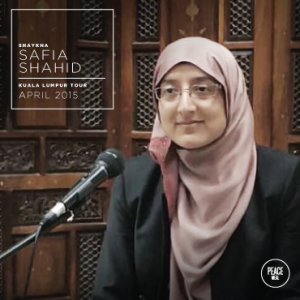 KUALA LUMPUR TOUR | APRIL 2015
Born and raised in the UK, Shaykha Safia Shahid travelled to Syria in 2003 to study the sacred knowledge.
She has delivered talks at many universities and conferences with guest appearances on TV and radio. She teaches Islamic disciplines at institutions, mosques and schools in various cities of the UK.
24.4.2015 • FRIDAY• 8.30PM – PURIFICATION OF THE HEART – 35, JALAN BU1/1, BANDAR UTAMA, PETALING JAYA, SELANGOR.
25.4.2015 • SATURDAY• 10.30AM – STRUGGLE FOR SINCERITY MODEST CULTURE – NO. 28-G, JALAN PUTRA 2, TAMAN PUTRA KAJANG
25.4.2015 • SATURDAY• 4.30PM – IN THE FOOTSTEPS OFMUHAMMAD SAW (MUSLIMAH ONLY) AS-SIRAJULMUNIR – LOT 376 JALAN HAJI MANAP, KAMPUNG SALAK TINGGI
26.4.2015 • SUNDAY• 8.00PM – PURSUIT OF  "REAL"  HAPPINESS – ABU UBAYD, LECTURE THEATRE, INTL ISLAMIC UNI MALAYSIA, GOMBAK
27.4.2015 • MONDAY• 8.30PM – VIRTUES OF KNOWLEDGE – INTERNATIONAL ISLAMIC COLLEGE NO 1 JALAN 31/10A, TAMAN BATU MUDA, BATU CAVES
28.4.2015 • TUESDAY • 10.00AM –  DISMANTLING TERRORISM FOR THE SAKE OF ISLAM – IAIS MALAYSIA, JALAN ELMU, OFF JALAN UNIVERSITI