When we saw that Bilal (from London, part of The Leaf Network) was coming to Singapore last year, we had to pull him in to KL to do some stuff. One of our volunteers hosted him and another organization close to us, Hawi al-Khairat (HAK) supported with logistics. Pic is of him helping us carry our equipment after an event. Clearly it was easy hosting him. 🙂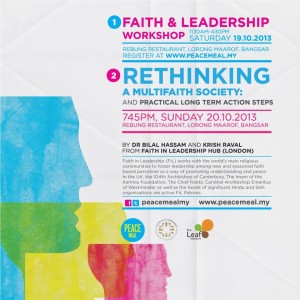 The main part of the trip was to help setup a bunch of meetings for him and colleague Krish Raval of Faith in Leadership to support their work in developing (future) leaders of faith background or connected to it, foster better relations between each other. We also organized a workshop and a talk for them and look forward to having. Click here for photos.
Hey.. thanks for bringing in Bilal Hassam. His interview aired last month & was so excellent. Bilal is an excellent speaker & considering all the rubbish that's going on as far as religion is concerned in the country, his talk was a breath of fresh air. We received so much positive feedback that it was repeated over the weekend. Thanks again for the contact. – Meera Sivaoothy, BFM
BFM was helpful in hosting an interview with him which they aired recently and was very well received. Listen to that interview here.
*We met Bilal two years prior to this trip, when he was a guest at an event of ours. As a group of individuals, before Peace Meal's inception, we hosted a session at Mukha Cafe with Shaykh Abdul Karim Yahya from California, now based in Michigan – he is often seen on YouTube as the translator for his teacher, Habib Omar Bin Hafidz when they do English programs.
Anyway, we had consulted the former Californian surfer boy turned scholar Shaykh Abdul Karim Yahya on some ideas we had, which he gave support and advice to. Little did we know, those ideas eventually became what we know today as Peace Meal.