Wael is an Ideological Expert & Interventions Consultant at The Unity Initiative, UK's foremost Counter Terrorism Consultancy. Their success rate in terms of de-radicalization of top end terrorists, is at 100%. His personal interest is scholastic theology and its experiential methodology.
He has been an official delegate for the Foreign & Commonwealth Office to Muslim countries promoting the British Islam Program, speaking to ministers, ambassadors, academics and journalists. Wael also worked as part of the Tabah Foundation under Habib Ali al-Jifri.
Bio: http://www.unityinitiative.co.uk/our-team/wael.html
How I De-Radicalize Top End Terrorists
with Wael Zubi (UK)
Friday 11 July, 10pm-11pm
Talent Lounge, Damansara Perdana
With all the things that are happning now in the news, simply said this a good time to bring this up.Do join us for this short talk and Q&A, moreh time.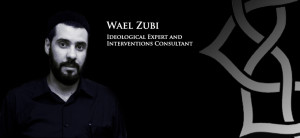 Most would recognize Wael from this video, where he interpreted for his former boss.