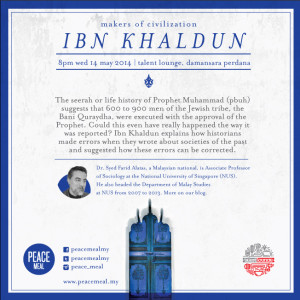 8.15pm – 9.45pm Wednesday 14 May at Talent Lounge, Menara Mustapha Kamal, Damansara Perdana http://bit.ly/talentloungemap
Ibn Khaldun was a master of how to think clearly and criticaly about history and society. He explained how historians made errors when they wrote about societies of the past and suggested how these errors can be corrected. For example, the seerah or life history of Prophet Muhammad (pbuh) suggests that 600 to 900 men of the Jewish tribe, the Bani Quraydha, were executed with the approval of the Prophet. Could this even have really happened the way it was reported? Using Ibn Khaldun's approach to history we examine this and other controversial questions. In his own study of history, Ibn Khaldun wrote about how corruption, dishonesty and the lack of unity or cohesion were responsible for the decline of states.
– Syed Farid Alatas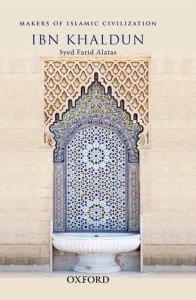 Farid Alatas, a Malaysian national, is Associate Professor of Sociology at the National University of Singapore (NUS). He also headed the Department of Malay Studies at NUS from 2007 to 2013. He lectured at the University of Malaya in the Department of Southeast Asian Studies prior to joining NUS. His areas of interest are historical sociology, the sociology of social science, the sociology of religion, and intra- and inter-religious dialogue. Among his books are Alternative Discourse in Asian Social Science: Responses to Eurocentrism (Sage, 2006), and two recent books on Ibn KhaldÉn: Ibn Khaldun (Oxford University Press, 2013 and Applying Ibn KhaldÉn (Routledge, 2014).