Documentary Screening & Solution Talking
This will be a time we'll look at how to move ahead with a clear view in mind of the principles it will take us to get there, and how to translate that into action. Many of the principles of permaculture (permanent culture) is also in existence with Islamic teachings. We'll try to look at that too.
Hmmm.. how does the classic Bangau Oh Bangau song relate to all this? Listen carefully to it. And come join in on 2nd December okay? 8pm Monday 2 December 2013, at Mukha Cafe in TTDI. Link to FB Event Page, click here.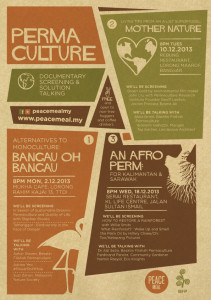 This is a series on environment focusing on permaculture based thinking and solutions, namely looking at polyculture ecosystem (2 December), modeling nature (10 December), and counter deforestation (18 December), organized by Peace Meal and Basatin Filahah Permaculture. It's free and open to non-tree huggers and coffee drinkers. See poster above.
Basatin Filahah Permaculture (BFP) is a company recently set up by four friends with a passionate interest in the permaculture approach toward actualizing a world of right livelihood for the common good. BFP offers educational, research and advisory services in permaculture design, right livelihood and the gift economy.