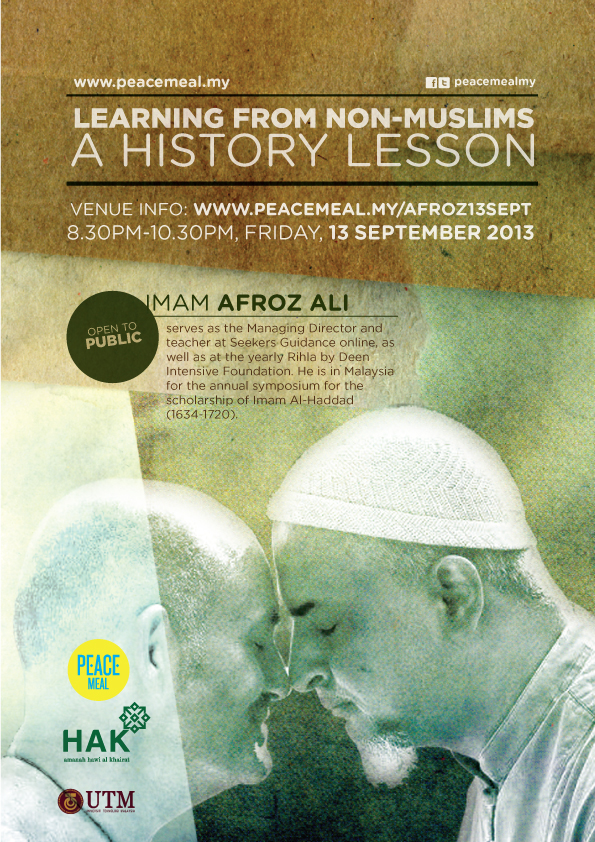 Imam Afroz Ali is in Malaysia for the annual symposium for the scholarship of Imam Al-Haddad (1634-1720) organized by Amanah Hawi Al-Khairat.
He serves as the Managing Director and teacher at Seekers Guidance online, as well as at the yearly Rihla by Deen Intensive Foundation. Click here for his full biography.
Did you know the current Arabic numerical system (١٢٣٤٥) is actually derived from Indian mathematician? The positional decimal numeral system developed between the 1st and 4th centuries by Indian mathematicians. The system was adopted by Persian Muslim mathematician and Arab mathematicians. Muslims have continued to learn from non-Muslim throughout history and join us for this session to understand this historical educational exchange.

View CASIS in a larger map
In collaboration with UTM CASIS – Centre for Advanced Studies on Islam, Science & Civilisation, this event will take place at Dewan Jumaah, UTM Jalan Semarak Campus, near Menara Celcom on Jalan Tun Razak. Click here for map.
Link to FB Event page here. No admission fee, but do RSVP, click here http://www.peacemeal.my/sept2013rsvp/.